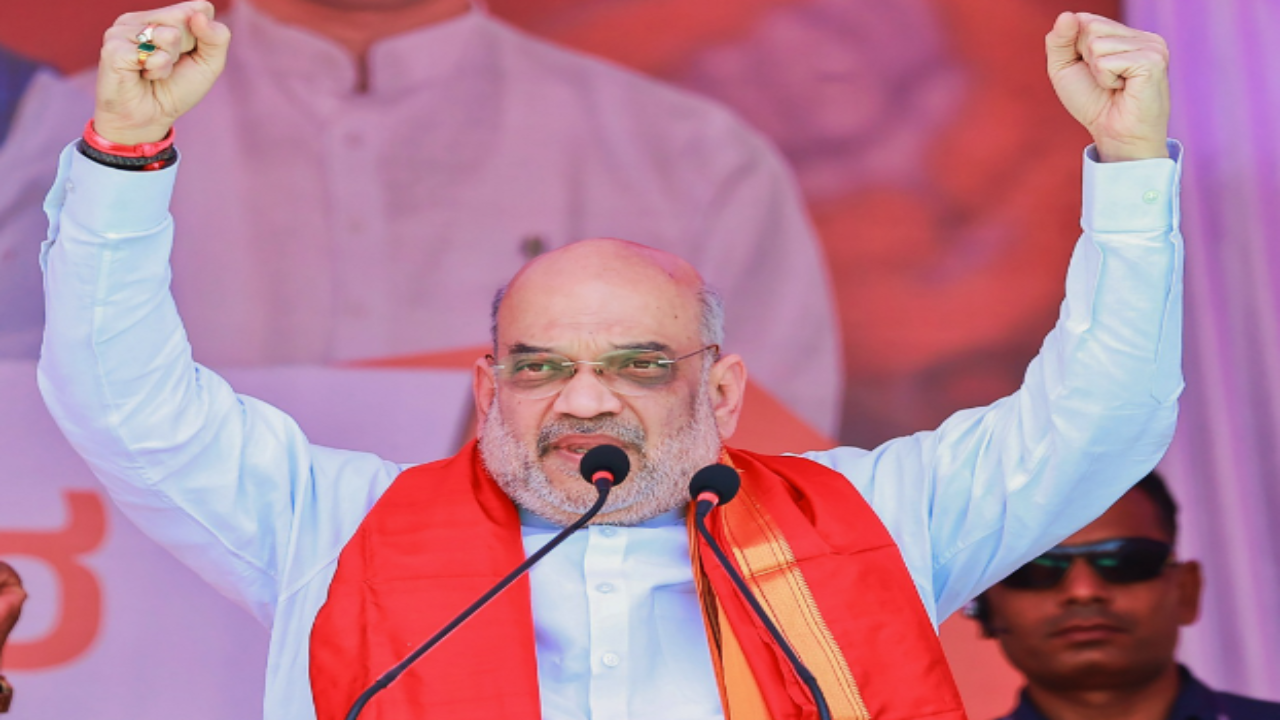 Five years ago, Amit Shah, then the BJP chief, led the party's Karnataka campaign. BJP emerged as the single-largest party but fell seven short of majority. Shah is back now to oversee a vigorous campaign for the May 10 polls. With just over a week to go for voting, he sat for an exclusive interview with TOI's Diwakar and Akhilesh Singh and spoke on a range of issues. BJP, he said, will get 15 seats more than majority this time, thanks to PM Modi's appeal and the numerous schemes that the state government has implemented.
Karnataka is the only BJP-run state in the south, so the poll is important for obvious reasons. But since 1985, the trend here has been to vote out the incumbent. There has been no exception.
■ Trends are not cast in stone. The country has seen a new trend since 2014 where Prime Minister Narendra Modi's popularity ensured that BJP retained office in states like Uttar Pradesh, Uttarakhand and Manipur where governments would change every five years. We also won in Assam and Tripura despite being the incumbent. You will see the post-2014 trend being extended to Karnataka as well.
So, with 9 days left for voting, are you confident of breaking the nearly four-decade-old trend?
■ As I said earlier, no trend is permanent in politics. In Karnataka, Congress has won successive polls. Janata Party also won consecutive terms here.
But not after 1985.
■ You are obsessed with 1985. If that was a marker, so was 2014 after which BJP has defeated incumbency in different states. In recent times, this has been the trend, the dominant one. I can vouch that BJP will get 15 seats more than the halfway mark of 113. You can put it against my name. I have said in public gatherings also and I am not saying this randomly. I know Karnataka quite well and am confident about the numbers.
Going by your assessment, BJP will post its best performance in the state. You won 106 seats last time when you were not the incumbent.
■ Yes, we are headed for the best-ever performance in Karnataka polls.
But serious allegations of corruption against the BJP government might come in your way.
■ None of the allegations has been made on the basis of evidence. There has been no court case. Congress, which has been levelling these charges, decided to bring no PIL because it has no evidence. Making wild statements in public is not enough to successfully create a narrative of corruption. As against this, there was strong evidence against Congress leaders who were chargesheeted, jailed and are out on bail. The people of Karnataka know that.
The performance of governments under B S Yediyurappa and Basavaraj Bommai was also lacklustre . . .
■ (Interrupts) On what basis do you say this? You need to take a fresh look at facts. Under Yediyurappaji and Bommaiji, massive work – more than in any comparable period – was done in the field of irrigation. Over 14 irrigation projects which were stuck have been implemented. . . be it Mhadei, upper Krishna, Kalasa-Banduri or Upper Bhadra. Besides the 14 prominent ones, many more are in different stages of completion.
Secondly, the state has received the maximum FDI in these five years and become home to a record number of start-ups. We have worked to improve urban infrastructure. Take the case of Bengaluru: Rs 13,000 crore has been spent on the Metro since Modiji took over in 2014. The length has increased from 6km in 2014 to 56 km and we now plan to take it to 100km when we form the next government. The Bengaluru suburban railway project, which remained on the backburner, is being executed with funding of Rs 15,000 crore. I can go on. Rs 3,400 crore for Mangaluru Port Authority, Rs 8,000 crore for Bengaluru-Mysore road, a Bengaluru-Chennai Expressway worth Rs 17,000 crore, a Bengaluru-Hyderabad road for Rs 31,000 crore, Bidar-Kalaburagi-Bellary road for Rs 7,000 crore. . . not a single region has been left unattended.
Four new airports have come up while Bengaluru airport has been expanded. The Mhadei dispute was resolved. Two IIITs have been set up while seven new universities have come up. The list is endless. Never before has so much been done in four years. Perhaps, we failed to highlight all this enough. But the people of Karnataka know it well. That will help you understand our confidence.
Isn't your confidence at odds with the pain you took to mollify two of your leaders, Jagadish Shettar and Laxman Savadi? The damage control exercise still failed and they joined Congress.
■ You are assuming that the party tried to do damage control and mollify the two leaders. Had that been the objective, we only had to give them tickets and they would have stayed on. Two tickets were not a big deal.
The truth is that we took a stand and remained firm on it. That, going by your question, shows our confidence and, contrary to what you say, does not take away from it. And let me say with full conviction that both of them will lose by huge margins.
The perception remains that you tried hard to keep the two back because of your dependence on the Lingayats. You have not achieved a breakthrough with the Vokkaligas, while the Kurubas are supposed to be backing Congress's Siddaramaiah.
■ We had several Vokkaliga and Kuruba MLAs in the past. Members of these communities have also been supporting the BJP. This time around, we have strong traction in the (Vokkaliga-dominated) Mandya-Mysuru region. My rally in Mandya was the biggest I have ever addressed. The PM started his pre-election rally from Mandya. We are getting a good response.
On a larger note, caste remains the determining political factor so long as development does not reach the people. After 2014, a new category of voters comprising beneficiaries of the Modi government's initiatives has emerged. In Karnataka's case, the double-engine government has facilitated construction of 4 lakh houses while 43 lakh connections of tap water and fluoride-free water have been provided through the Jal Jeevan Mission. Approximately 48 lakh toilets have been constructed, 4 crore people are benefiting from the free ration scheme, Rs 15,000 crore has been distributed among 54 lakh farmers under Kisan Samman Nidhi, 8. 37 crore people have been covered under Ayushman Bharat and 37 lakh people have been given free LPG connections under Ujjwala.
The media should start looking beyond the caste factor to take note of the emergence of this new class of voters who have directly benefited from Modiji. You don't notice them, but we see them. With their living standards improved, they have been supporting us in each election and their impact will grow even bigger in the coming days.
There is a buzz about an undeclared understanding between you and influential Lingayat swamis that the next CM should be from their community.
■ There is no such understanding, in fact it is not required at all. There is already a Lingayat chief minister, Basavarajji is a Lingayat leader (says with emphasis).
Then why has the party not projected him as its CM candidate?
■ Arre, he is already the CM and somebody who is already a CM is not projected as a CM candidate. We have done exactly the same in similar situations.
BJP has been campaigning against dynastybased politics. But here, many tickets have been given to relatives of party leaders.
■ You may like to re-examine your definition of dynastic politics. The son or daughter of a politician being allowed to contest polls is not dynastic politics. Dynastic politics is one where an entire party is controlled by one family, its leadership gets passed from one generation to another. . . Shri Jawaharlal Nehru was followed by Indira Gandhi, Sanjay Gandhi, Rajiv Gandhi, then Sonia Gandhi despite her foreign origin, then Rahul Gandhi and Priyanka Gandhi. Mulayam Singh Yadav is succeeded by Akhilesh Yadav; Lalu Prasad by Tejashwi Yadav and Tej Pratap Yadav; H D Deve Gowdaji, one son, the other son, first daughterin-law, second daughter-in-law, two grandchildren… this is nepotism. Nepotism and dynasty mean one family controls the entire party, it is not confined to one individual contesting a poll. On the other hand, we had Advaniji as party president followed by Venkaiahji and then Rajnath Singhji. So, we have a different structure.
The reconfiguration of quotas has been challenged in the Supreme Court, raising doubts whether the changes will materialise.
■ The increase in SC/ST quota has not been challenged in the Supreme Court, which is only looking into the decision to do away with the Muslim quota and allocate the space thus gained among Lingayats and Vokkaligas. But I strongly feel that reservation based on religion is against the spirit of the Constitution and must be abolished. No court can justify such reservation as the Constitution doesn't allow it. There is no ambiguity. We are confident that the final verdict will be in the government's favour.
Even Banjaras, who have been among your supporters, are dissatisfied with changes in the SC/ST quota.
■ Initially, Congress had created confusion but we cleared the air in six meetings with representatives of the Banjara community. I explained to them that they are going to be better off. They understood and are not going anywhere.
It is alleged that scrapping of the Muslim quota was just a polarising tactic.
■ People are free to say whatever they want but that will not deter us from opposing what is unconstitutional.
Congress president Mallikarjun Kharge called the Prime Minister a poisonous snake, and the PM said the remark was the 91st abuse hurled at him by Congress. How do you see this confrontation playing out?
■ Modiji is very popular and people think that in the past nine years, he has stabilised the economy and earned glory for the country. Therefore, respect for him runs deep. Such being the sentiments, there is bound to be a reaction if people see their leader getting unnecessarily targeted. But in our country, people don't take out processions to vote. They express their feelings during voting.
Rahul Gandhi spent considerable time in Karnataka during the Bharat Jodo Yatra. Do you think it will impact the polls?
■ After his yatra, polls were held in Tripura, Nagaland and Meghalaya, which used to be Congress strongholds. Congress could not reach even double digits. BJP, on the other hand, was successful in all three.
But in Karnataka, they have made 'guarantees' to ensure that people vote for them.
■ Please also study the fate of similar 'guarantees' they had given elsewhere: in Uttarakhand, in Uttar Pradesh. There were no takers. Guarantees matter if they come from people who have credibility. They have not fulfilled promises even after winning elections. Congress's guarantees are like cheques drawn on an insolvent bank.
What is your assessment of JD(S)'s standing in this contest?
■ People have realised that voting for JD(S) means a vote for Congress. They saw what happened in 2018 when BJP emerged as the single-largest party followed by Congress and JD(S). Once the results came out, Deve Gowdaji and H D Kumaraswamy went to the Congress office in the same car. So, those who don't want to vote for the Congress this time will vote for the BJP and not the JD(S).
What do you think are the chief factors because of which people will prefer BJP?
■ People of Karnataka have seen the benefits of the double-engine model. I will give you a small example: Siddaramaiah as Congress chief minister gave a list of only 17 lakh farmers as eligible beneficiaries of Kisan Samman Nidhi. He was scared that submitting the full list will help BJP. With the change of government, the number of beneficiaries reached 54 lakh. Wouldn't farmers here like the BJP government to continue?
Construction of houses for the poor picked up under BJP and coverage of Ayushman Bharat increased. The Modi government has allocated more than Rs 70,000 crore for works like drinking water, drainage and traffic management in Bengaluru. Central allocation to Karnataka has more than doubled since the UPA days. BJP did no favours to the hard-working people here. . . it is their due, but it was denied to them.
Second, the ban on Popular Front of India (PFI), which has emerged as a serious security threat. The Congress government remained negligent. Cases against PFI activists were diluted, some of them were patronised. BJP has acted sternly and has jailed a large number of PFI activists across the country due to which the people of Karnataka feel safe today. And the third factor is that only the BJP has an appeal across several sections. Congress is confined to a few social segments, so is JD(S) but BJP has acceptability across the state and the most important factor is that the people of Karnataka love Modiji. They trust Modiji. Finally, people have liked the efforts we have made to improve living standards by providing houses, toilets, water, electricity, health insurance. We have given them facilities for a better living.
But there is an assessment that BJP should have dropped more candidates in Karnataka.
■ It is easy to give commentaries. Such decisions are taken after a long exercise in which several factors like acceptability of the candidate, credibility and experience are taken into account along with the availability of options. I personally feel that we have fielded the best possible options available to us.
The opposition is confident of your defeat and Bihar CM Nitish Kumar has said that he will call a meeting to bring rival parties together after the results are out.
■ What does this 'bringing together' business mean? How many of Nitish Kumar's candidates will contest in Gujarat, and how many candidates of Mamataji will contest in Uttar Pradesh, or, for that matter, those of Akhilesh Yadav in West Bengal? Who are being united? They have already been contesting against us in their respective states. Akhilesh Yadav and Congress holding a meeting has no meaning as the latter has vanished in UP. (Telangana CM) Chandrasekhar Rao keeps moving all over but is losing space in his home state. The media can run whatever headlines they want to, but they need to stop and ask and inform what this 'unity' effort will actually entail.
The opposition's objective is to engage BJP in direct fights in all Lok Sabha constituencies. On the face of it, this seems to make sense considering that while BJP got 303 seats in the 2019 polls, it polled only 37% of the vote.
■ Fine, please explain how it will happen. Will BSP not contest in UP, or BJD in Odisha, Akali Dal in Punjab? Will Congress and AAP join hands in Delhi, will the communists and Mamata join hands? Where will these direct contests happen? Will UDF and LDF be together in Kerala? But you are right that we should improve the percentage and get 10% more.
BJP is quite aggressive against Arvind Kejriwal in Delhi but the Centre had smooth coordination with his colleague, Punjab CM Bhagwant Mann, in nabbing self-styled preacher Amritpal Singh.
■ Punjab is a border state and BJP doesn't do politics on the issue of national security. In fact, no one should do it. The Centre extended full support to the Mann government for Amritpal's arrest.
The recent killing of jawans in Chhattisgarh has once again showed that the Maoist threat is far from over.
■ See, Naxal violence has been brought down to 20% of what it was in 2014. Security forces have been doing a commendable job and fatalities among the Naxals have gone up 20%. These are statistics of the crime bureau based on the number of police stations, districts and number of people affected, which can't be manipulated. Bihar and Jharkhand are free; Odisha and Andhra Pradesh are also free, Telangana too. Only four districts of Chhattisgarh are infested. When you launch a campaign for their elimination and development reaches their dens, resistance is inevitable and the retaliation will turn violent. But I am confident that the entire country will soon be free of the Naxal problem.
Terrorists recently ambushed and killed soldiers in Poonch. We continue to see incidents of violence in J&K. What has changed after the state's special status was scrapped?
■ The cowardly attack on our jawans was tragic. Incidents have happened but they don't reflect the real picture. In such situations, you cannot make assessments based on what happens on a day. What is clear is that not a single crime will remain unsolved and go unpunished. After removal of Article 370, each such case has been pursued vigorously. The fact remains that there has been a sharp decline in violence in Kashmir. Have you lately seen funeral processions of terrorists? Or any bandhs during visits of Central leaders? I went there five times and in no instance was there a bandh. Even if a call was given, it did not succeed. I had a successful meeting even in Baramulla.
Modiji is greeted with 'Modi-Modi' chants, welfare schemes are effectively being implemented, several infra overhaul projects are happening, investment worth several thousand crores has been received and several national-level institutions have been set up. The panchayat elections saw a historic 98% turnout and today, people have 30,000 elected representatives taking important calls for them and deepening the roots of democracy. More than 1. 8 crore tourists have visited Kashmir, which is the highest since Independence. Those who used to say that there will be bloodbath in Kashmir… the actual story has been entirely different. There is 68% decline in incidents of violence, 72% fewer overall deaths, 82% decline in civilian killings. The menace of stone pelting is history. Infiltration and radicalisation have also been minimised. I consider it a big success of the government. After removal of Article 370, improvement in law and order and containing terror activities are undoubtedly among the biggest achievements of the Modi government.
But elections are still uncertain.
■ Elections are to be conducted by the Election Commission. People of J&K have a right to vote but for free and fair polls to be held, certain things had to be done. There was manipulation of an unprecedented level in the voters' list which had to be cleansed. The issue of reservations has been resolved and delimitation done. Elections will be held once the rolls are ready. But it is the Election Commission which will take that call.
Anand Mohan was recently released from a Bihar jail but it seems BJP is confused about its stand on the issue?
■ No, it's not so. BJP has opposed it. The party's state unit has issued a statement against the move.
You have launched an aggressive campaign against narcotics and pledged to eradicate the menace by 2047. But still we see the number of seizures going up.
■ Your question has the answer built into it. We have been aggressive against narcotics. Earlier, any seizure of narcotics was seen as an isolated case but now a top-to-bottom and bottom-to-top approach is taken, which means the entire chain — from the peddler to the recipient — is mapped. In case of seizure from a port, the agent and which paan shop it was to be delivered to are tracked. Huge success has been witnessed in these years. The increase in seizures reflects that. As compared to the previous period, seizures of morphine, heroin and ketamine have increased by 860%, 242% and 362%, respectively. Seizures worth Rs 22,000 crore have been made so far. Whereas earlier 1 lakh kg of narcotics was burnt, now 6 lakh kg has been burnt.
A four-pronged arrangement has been made, starting from Central agencies to officers, state and then districts. We framed a new narcotics control policy and a uniform law has been drafted for the entire country and 16,000 police stations are involved in this campaign. Even Punjab has witnessed more arrests and seizures and two more NCB centres are being set up in the state. We have pledged to make the country narcoticsfree under Modiji by 2047 and we expect support from all. This was ruining an entire generation.
These days, there is a lot of discussion about G20 everywhere. Why does the government consider it to be such an important event?
■ First of all, I think the G20 presidency is a matter of pride in itself. India is going through a huge change under the leadership of Modiji, G20 is a great opportunity for us to tell the story of this change to the world. It is also for bringing global diplomacy closer to people. In other countries which have hosted G20 summits, events revolving around them were kept confined to a few cities. In India, this festival is being celebrated in 60 cities, due to which our cultural diversity will reach the world.