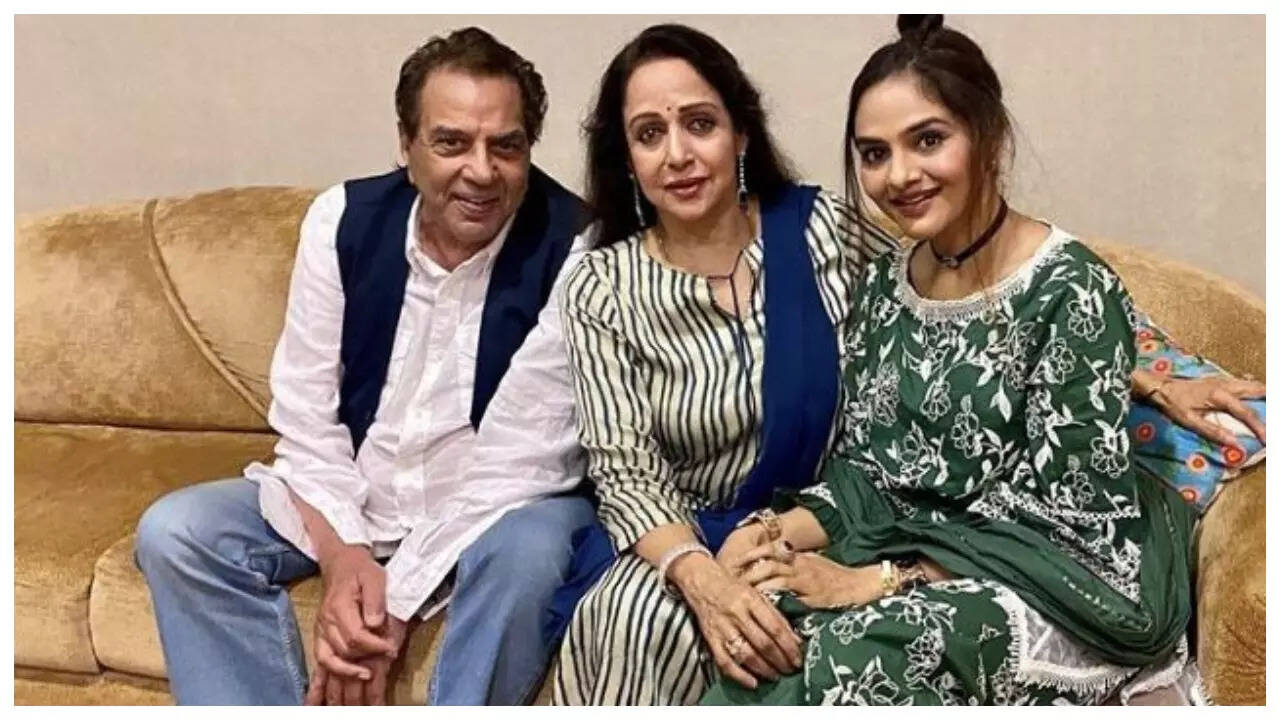 Madhoo, who made a name for herself with iconic 90s hits like Phool Aur Kaante and Roja, shares a unique connection with Bollywood's legendary dream girl, Hema Malini. Madhoo's father and producer P Raghunathan is Hema Malini's uncle. In the recent past, Madhoo has shed light on her family dynamics and her association with
Hema Malini
while speaking to ETimes.We look at their connection and Madhoo's transition from being christenedPadma Malini at birth to becoming a household name in the 90s.
How Hema Malini inspired Madhoo to be an actress
Madhoo had revealed her family connection, one that's been a driving force in her life and career. She had told ETimes, "Hema ji and I are cousins. I have nothing but respect, and I look up to her as a star and as an artiste." She also revealed, "Hema ji is a legend, but more than that, I love her for the person that she is. She inspires every one of us in the family."
Growing up, Madhoo was surrounded by artistic influences, which further fueled her aspirations. "It is a very natural thing when you are in a home. If you are in a doctor's home, you all want to be doctors someday. In my home, my mother was a professional Bharatnatyam dancer and she became a teacher later. So, I only saw dance and music in the house," she reminisced.
Madhoo's childhood was filled with the magic of the arts, and Hema Malini played a pivotal role in shaping her dreams. "When I saw Hema ji, she was at the peak of her career. We were very close and lived close by. I would go every day to her house. I would see all the legends in her house, and she herself was living that artistic life. It had a deep impact on my thought process. I wanted that for myself. That is how I got inspired to be an actor myself."
Madhoo dreams of working with Hema Malini
As a testament to her admiration and love for her cousin, Madhoo revealed her dream to collaborate with Hema Malini. She said, "I have many dreams, and one of them is to do something with Hema ji and Esha. I keep telling them that we have to do something together. I don't mind if Hema ji directs it or if she acts, but I would love to be together in a movie done by all three of us; that is one of the dreams I have."
The prospect of three generations of talented actresses collaborating on a project is just the thing to get the fans excited. A project featuring Madhoo, Hema Malini and Esha Deol would not only be a family reunion but also a celebration of their clan's immense talent.
Madhoo was named Padma Malini, akin to Hema Malini's name
Madhoo's journey in the public eye took an interesting twist when she embraced the on-screen name Madhoo. She shared the origin of her chosen name in a past ETimes interview stating, "Padma Malini is my birth name. It derives from the names goddess Lakshmi and goddess Padma. My family was into traditional rituals, and they named me Padma. I was raised in Delhi, where the majority of people living around my home in Karol Bagh were from the Punjabi community. The name Padma just didn't fit well with them."
Madhoo remembered the turning point, "There was one lovely young lady in our area, and we called her Uma Didi. She always addressed me as Madhoo. I was a little tot, always running around, and she never called me Padma. So the name 'Madhoo' had already caught on in our society, and eventually everyone started calling me by that name. People stopped calling me Padma, and my father must have realized that. Though I never had a chance to ask him. He named me Padma, but when he registered me in school, he called me Madhoo."
Madhoo reflected on her name change, "I feel this name was given to me by the people, and I am meant to be in the public domain. That's why I never used my father's name, Raghunathan, and after marriage, I never used my surname, Shah because, for the people, I am just Madhoo."
Madhoo's unique journey from being inspired by her iconic cousin Hema Malini to becoming an actress is a testament to the power of family bonds that influence Indian cinema. Here's hoping that Madhoo and Hema Malini come together for a project soon enough.
Pakistani actress Mahira Khan dances to Shah Rukh Khan's song 'Maahi Ve', drops new pictures and videos from her pre-wedding celebrations