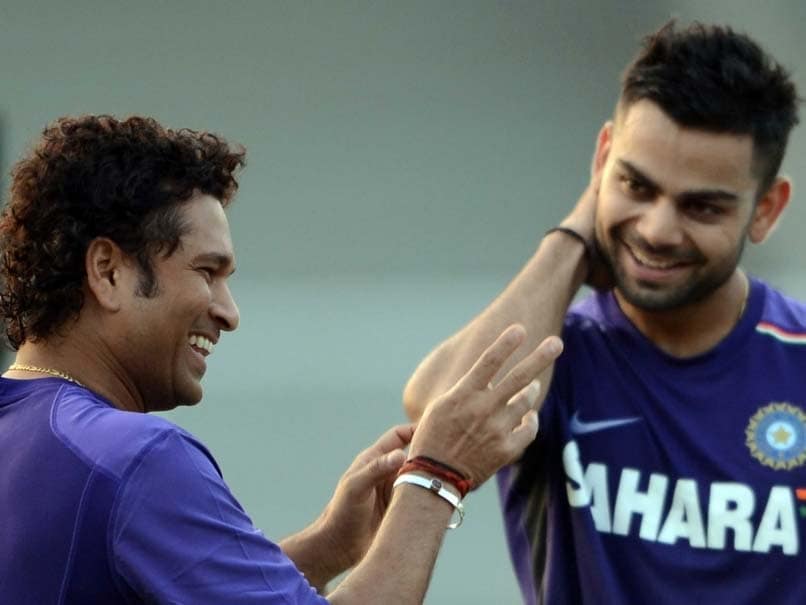 For Virat Kohli, Sachin Tendulkar has always been an idol. The respect that Virat Kohli has for Sachin Tendulkar has been expressed by the former many time. "Sachin Tendulkar has been carrying the Indian cricket team for so long, it's time we carried him on our shoulders," Virat Kohli had famously said after India had won the 2011 Cricket World Cup where both of them played. Despite building his own lofty peaks, Virat Kohli remains a fan of Sachin Tendulkar.
On the day when he equalled his idol's record of 49 ODI hundreds, Kohli unabashedly admitted that he will never be in the league of the iconic Mumbaikar, who enthralled the cricket world with his extraordinary skills for decades.
On his 35th birthday, Kohli stuck an unbeaten 101 off 121 balls that formed the fulcrum of India's 326 for 5 and the eventual 243-run win over South Africa in their World Cup match here on Sunday.
"It is all too much for me to take in now, to equal my hero's record is something special for me. He is perfection when it comes to batting. But I am never going to be as good as him," Kohli said during the post-match presentation.
He further dwelled on his adulation of Tendulkar.
"It's a very emotional moment for me, I know where I come from. I know the days where I have been watched him on TV, and just to get that appreciation from him means a lot to me," added Kohli.
Tendulkar had taken to X (formerly Twitter) to extend his appreciation for Kohli matching his feat.
"Well played Virat! It took me 365 days to go from 49 to 50. I hope you go from 49 to 50 and break my record in the next few days. Congratulations," said Tendulkar.
Kohli said he has been enjoying his cricket at the moment.
"I'm enjoying playing cricket, that is more important to me than phases. I'm just happy that God has blessed me with that enjoyment. I'm just happy that I'm being able to do what I have done over the years," he said.
The former Indian captain said playing against South Africa was a motivation in itself for the entire side.
"It was a big game, probably playing the toughest team in the tournament. There was a motivation to do well. Because it happened on my birthday, it becomes special and the people made it more special for me," he added.
Kohli said the rollicking start openers Rohit Sharm and Shubman Gill gave helped the team a lot in setting a fine platform. He said India's total on the day was above par.
"People from the outside look at the game in a bit of a different way. When the openers start well, you feel it is a belter but the conditions slowed down drastically.
"I was happy form that perspective. Once you got more than 315, we knew that we were above par," he added.
With PTI inputs
Topics mentioned in this article